This week's Tea & Toast takes on a Modern Nest journey as Style No# 2 of our Style series. For those of you who missed last week's Tea & Toast go here and check out the style quiz. Leave me a comment and share with us what style of nester you are. Then come back and enjoy some modern nesting vignettes.
…
So what does a modern nest look like? Well, that is a kind of tricky thing to narrow right down. Modern has quite a few slants these days. I should really have had an 'eco' style option because it is a style in it's own right but for this little series I'm blending eco and modern together because eco is hot right now in the feathering and nesting business, and so it should be. I love this look! It fits all the bills of modern – streamlined, chic, minimalist, clean but it adds a little more warmth and heart compared to other ultra modern looks. There'll be a bit of both types of modern on our Tea & Toast journey today. I hope it covers every one of your modern nesting needs.
For you, the Mostly B'ers. Enjoy!
Style No# 2 :: Modern Nests
~Mostly B's: Modern Nester You love all things new and contemporary. You love minimalism in your nest. Neutral colours. (as well as black and white) are your favourites. You love simple, clean lines and stainless steel appliances. The latest nesty technology is important to you. You love to shop in the city and like to have your nest looking up to date and streamlined always~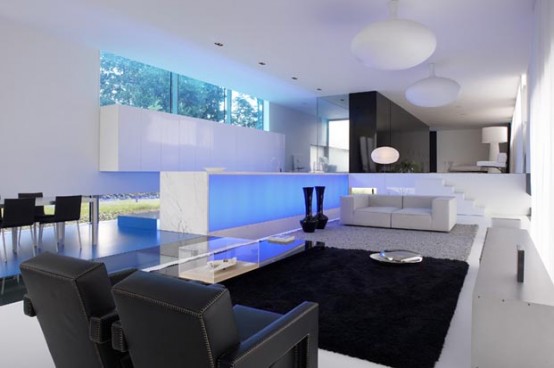 The next scenes are more relaxed modern with hints of 'eco'. More my style of modern, I have to say. They bring warmth and heart to the often stark, cold feel of the ultra modern look. A nest has to have heart, don't you think?
The Cullen house in the Twilight movie… obviously those vampires were mostly B'ers too.
There you go. Modern Nests.
What did you you think? Even if you're not a modern nester, could you use some of these ideas in your nest?
Next week's Tea & Toast is for the mostly C'ers :: Rustic, Earthy Nesters. I can't wait.
Happy Tuesday!
Kim x